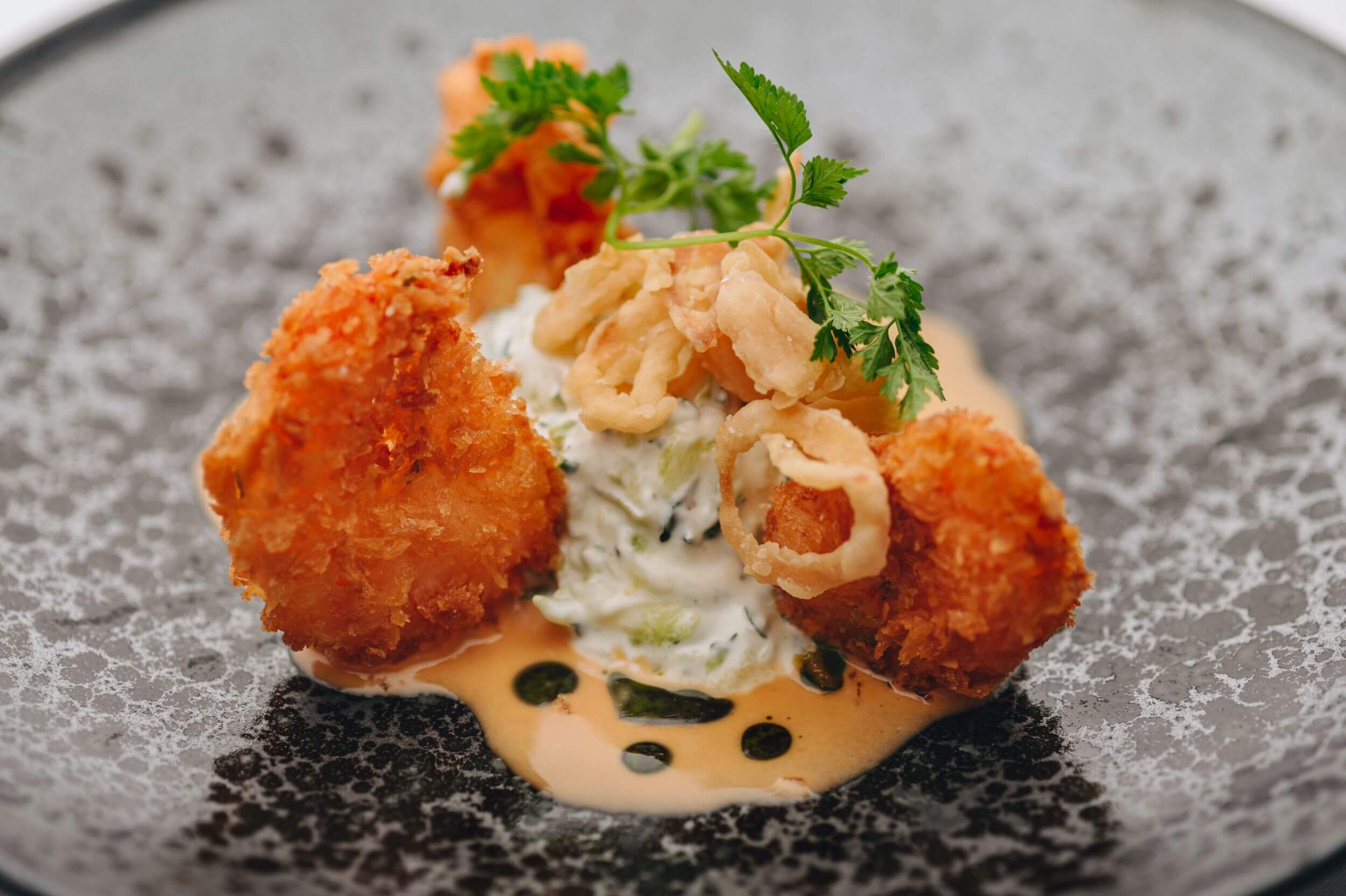 Tartare
210 CZK
beef, shallot confit, cornichons, marinated mustard, smoked eggyolk
Carpaccio
190 CZK
classic, beef, aioli with baked garlic, pickled shimeji, rucola, parmesan, caper vinaigrette
Shrimps
230 CZK
fried in panko breadcrumbs, chilli bisque, zucchini raita, lime leafs, crunchy onion
Mozzarella di Bufala
190 CZK
colorful tomatoes, gazpacho, black olive salsa, basil granita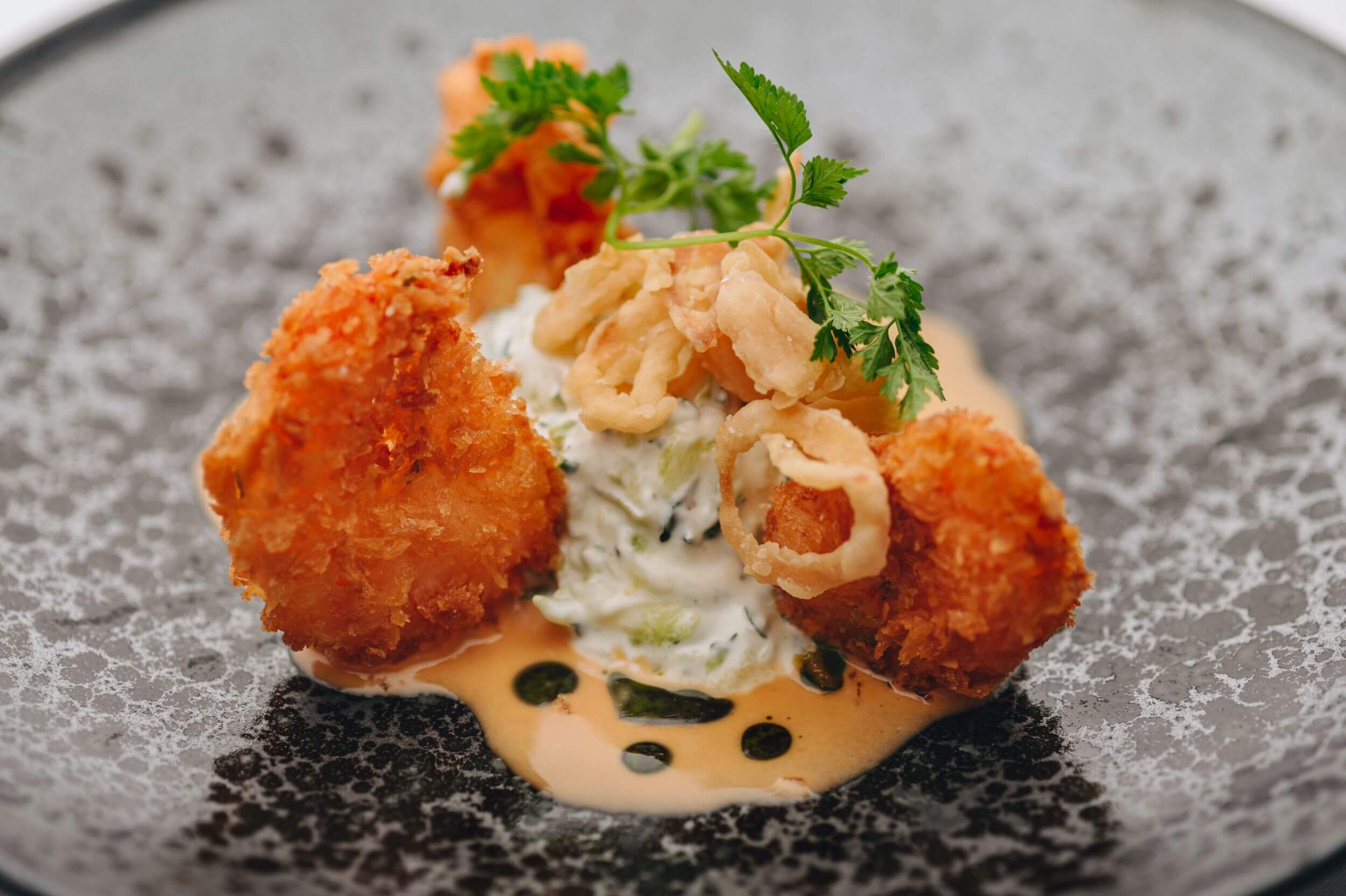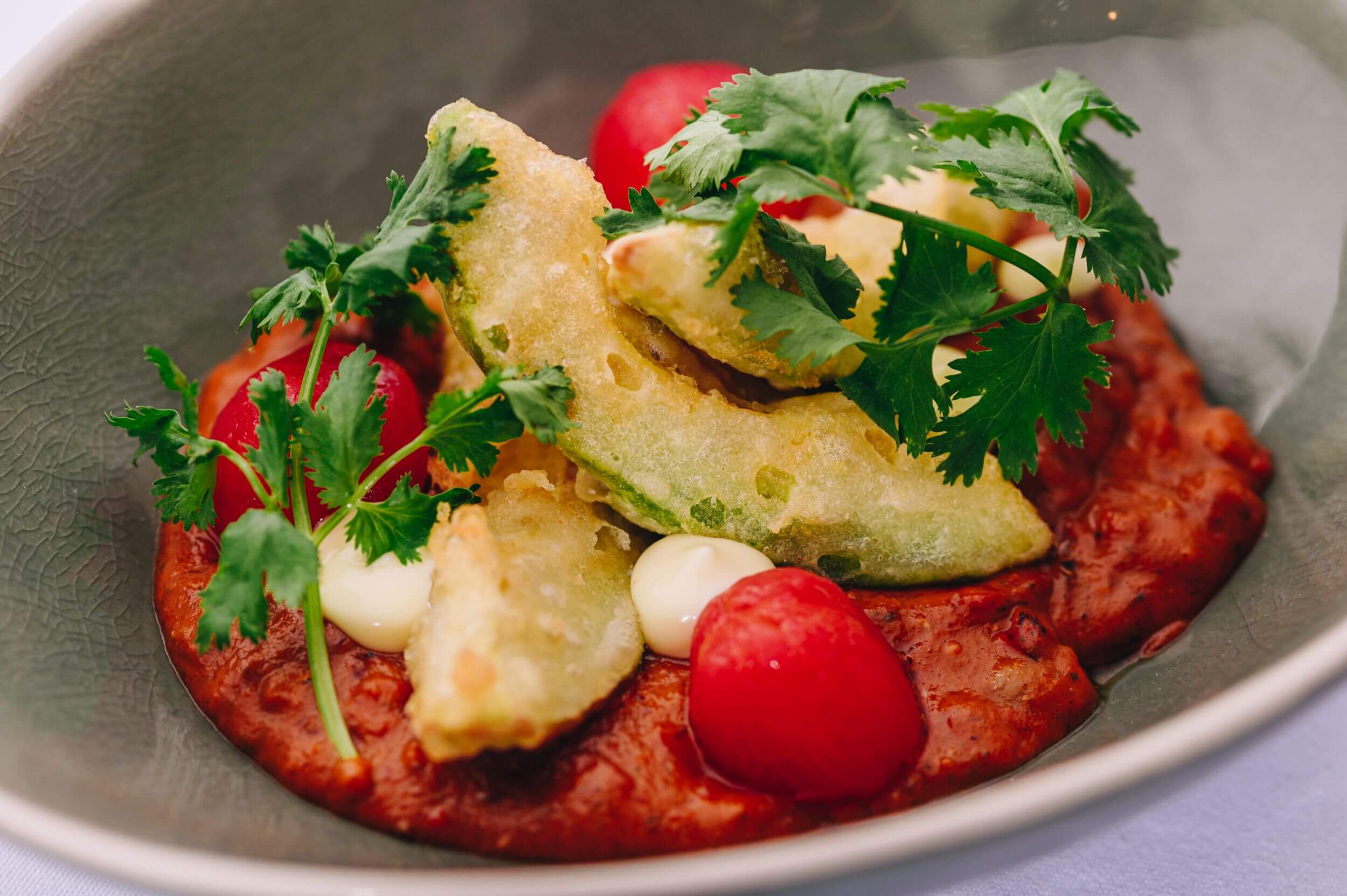 Consomme
85 CZK
beef, tongue, brunoise vegetables,
Cream
75 CZK
potato, baked oyster mushroom, ventricina, cilantro
Fresh & Spicy
130 CZK
baby gem, cucumber-pineapple salsa, cilantro,
Garden
115 CZK
green salad, marinated zucchini, tomato, lemon vinaigrette
Extra sides
Grilled shrimps (5 pcs)
150 CZK
Grilled chicken breast (100 g)
110 CZK
Avocado deep fried in tempura batter (1/2)
90 CZK
Steaks
The following prices are per 100 g of meat.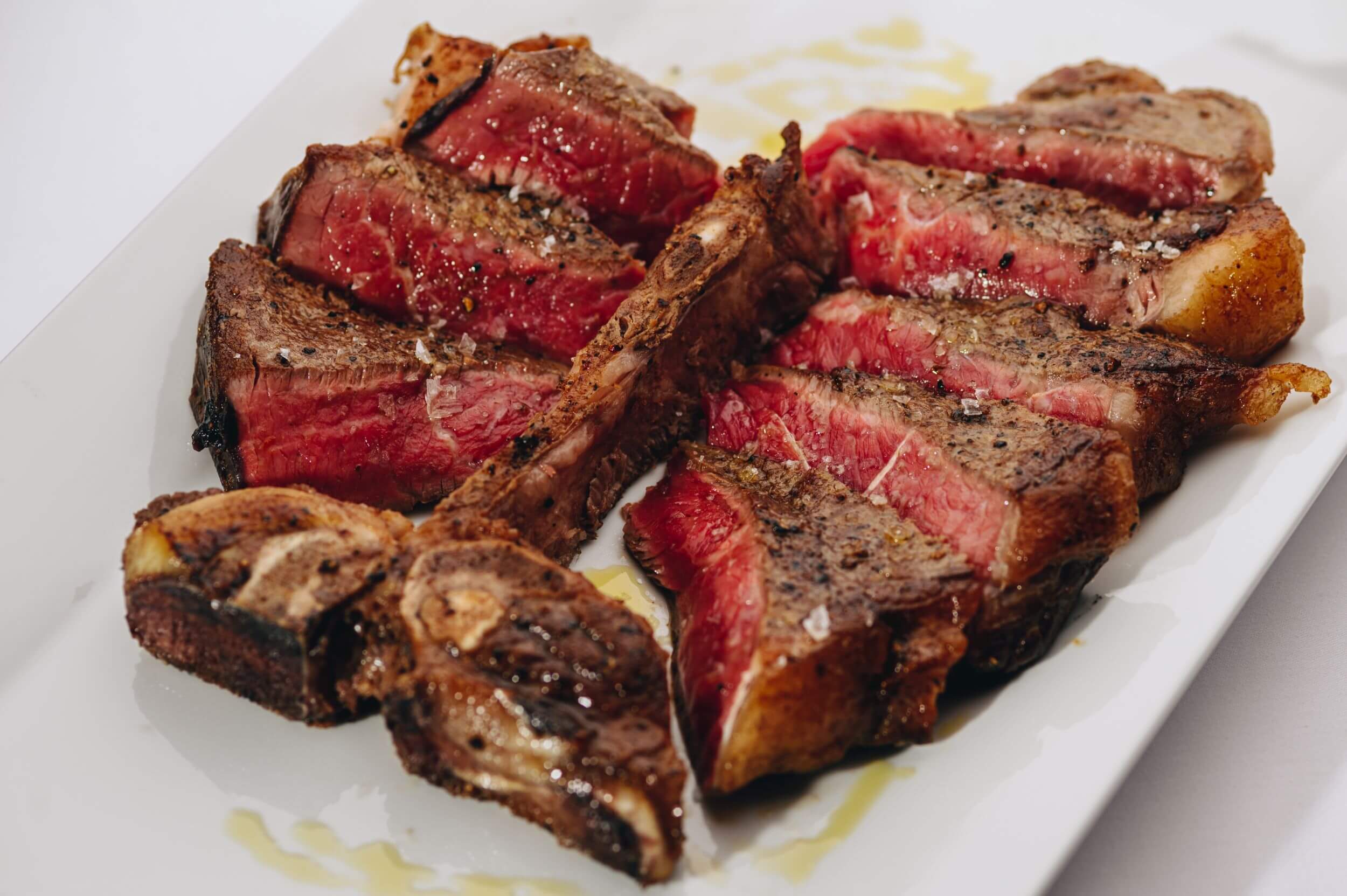 T-bone
230 CZK
the famous T-Bone is combining the Tenderloin on one side and Strip Steak on the other, separated by the T-shaped bone that gives this cut its name.
Rib-eye
230 CZK
one of the most prized cuts of all, the rib eye comes boneless or with the rib bone still attached, the white fat cap makes rib eyes very intense and beefy in flavor.
New York strip
180 CZK
medium level of marbling and the cap of fat that is found around its side, the meat has a tighter texture and pronounced meaty flavour.
Tenderloin
295 CZK
the most tender cut of meat from the carcass. the meat stays exceptionally tender.
Rump U.S. prime
210 CZK
very classic steak cut, rump is at the opposite end of the spectrum to fillet. What it lacks for in tenderness, however, it more than makes up for in flavour.
Skirt
135 CZK
skirt can be found near the onglet, by the lower belly and ribs, and shares many of the same characteristics. It is quite a thin steak that is full of flavour.
Chuck Flap U.S. prime
150 CZK
this large primal comes from the shoulder area and yields cuts known for their exceptionally rich, beefy flavor.
Veal tomahawk
185 CZK
also known as veal chop, deliciously thick and tender with a delicate flavor.
Wagyu
according to our daily offer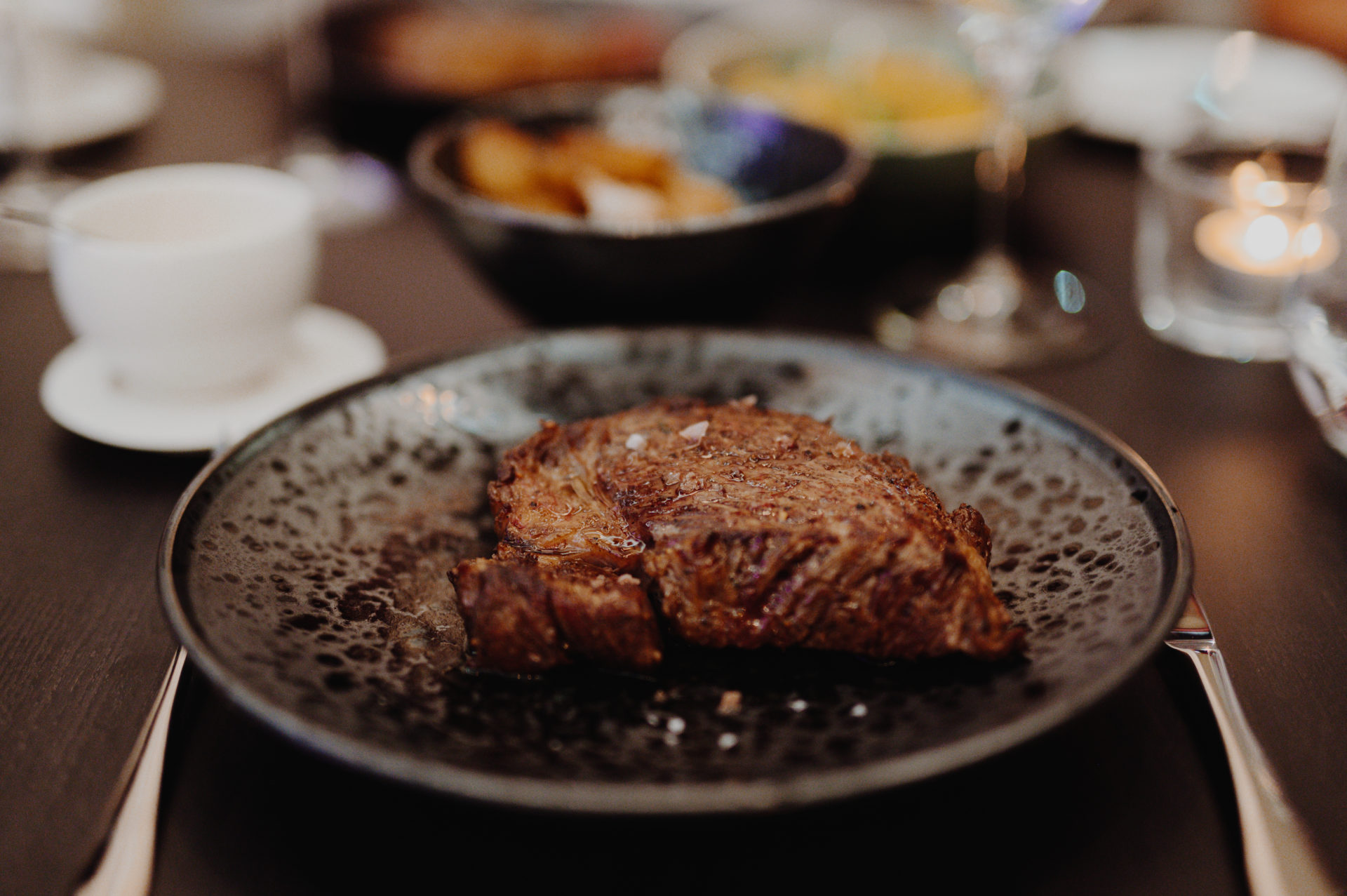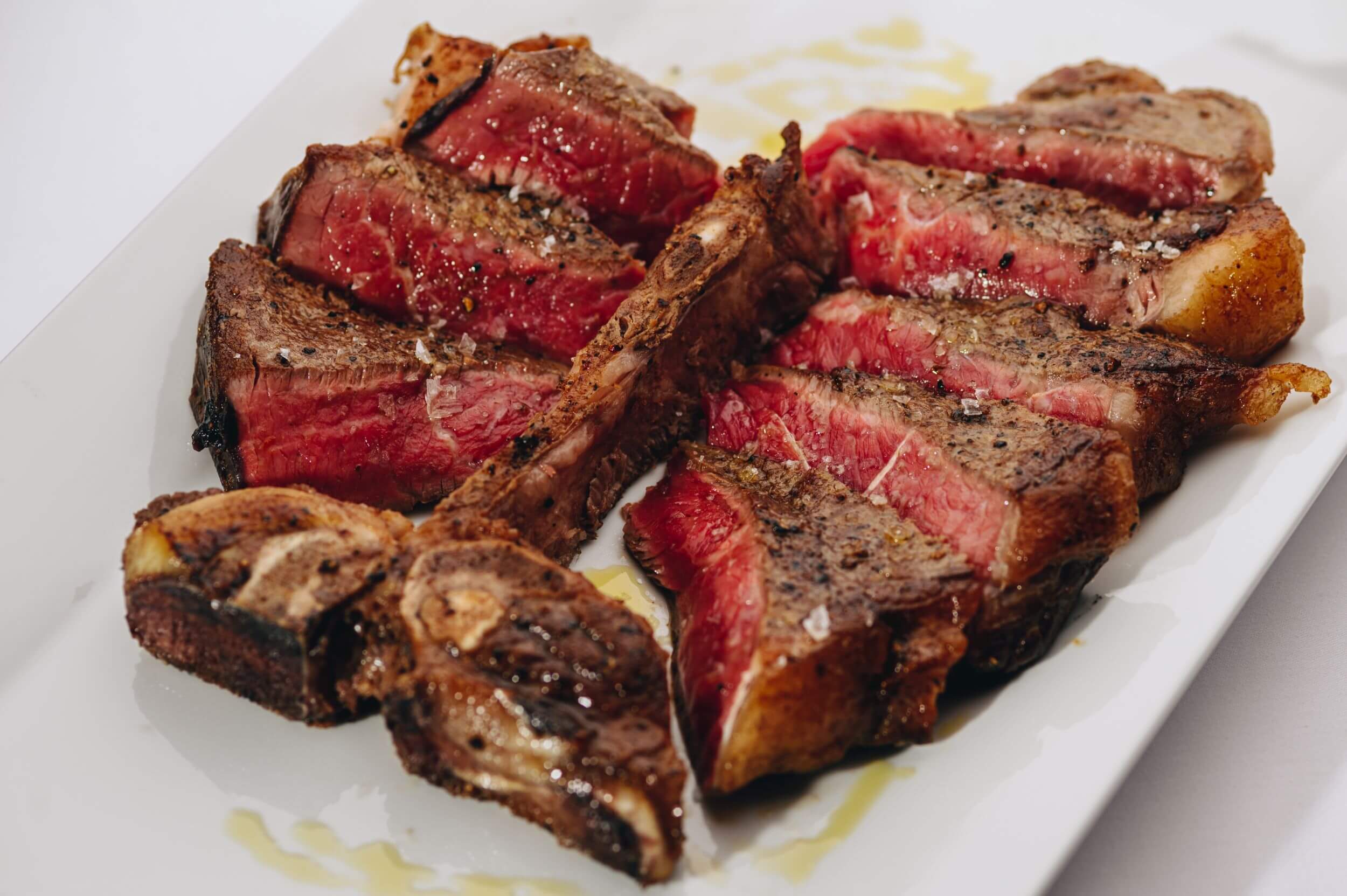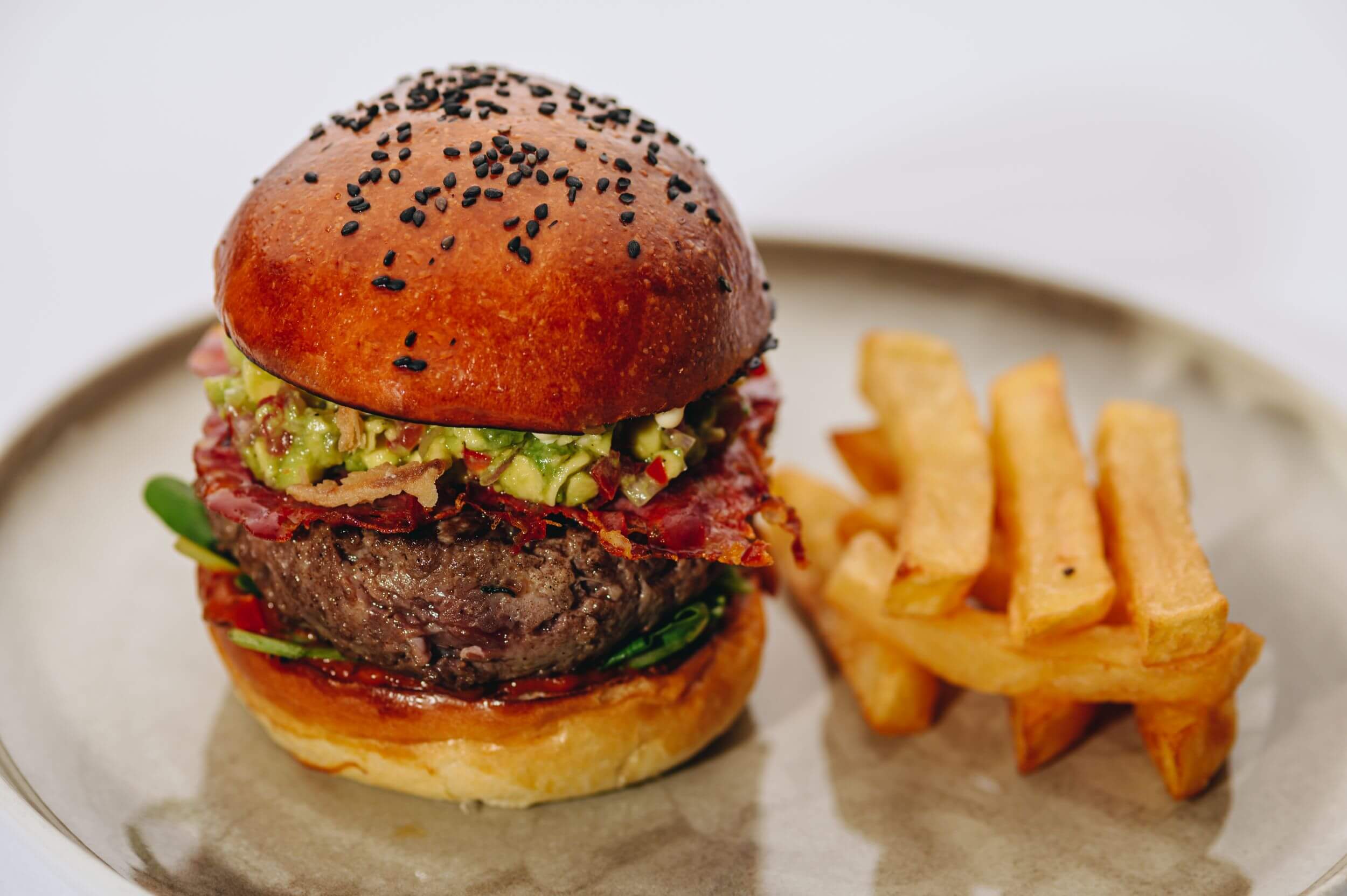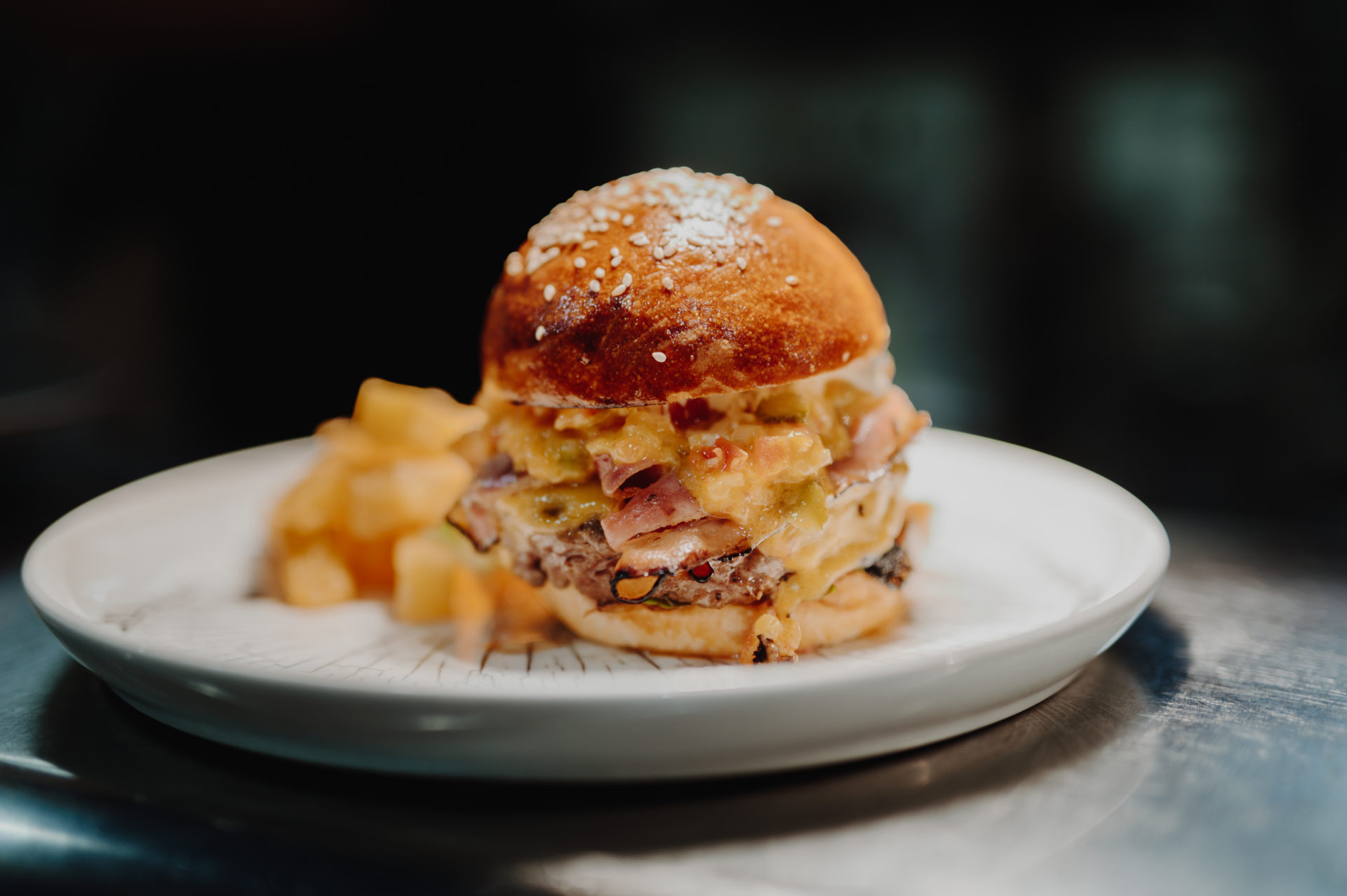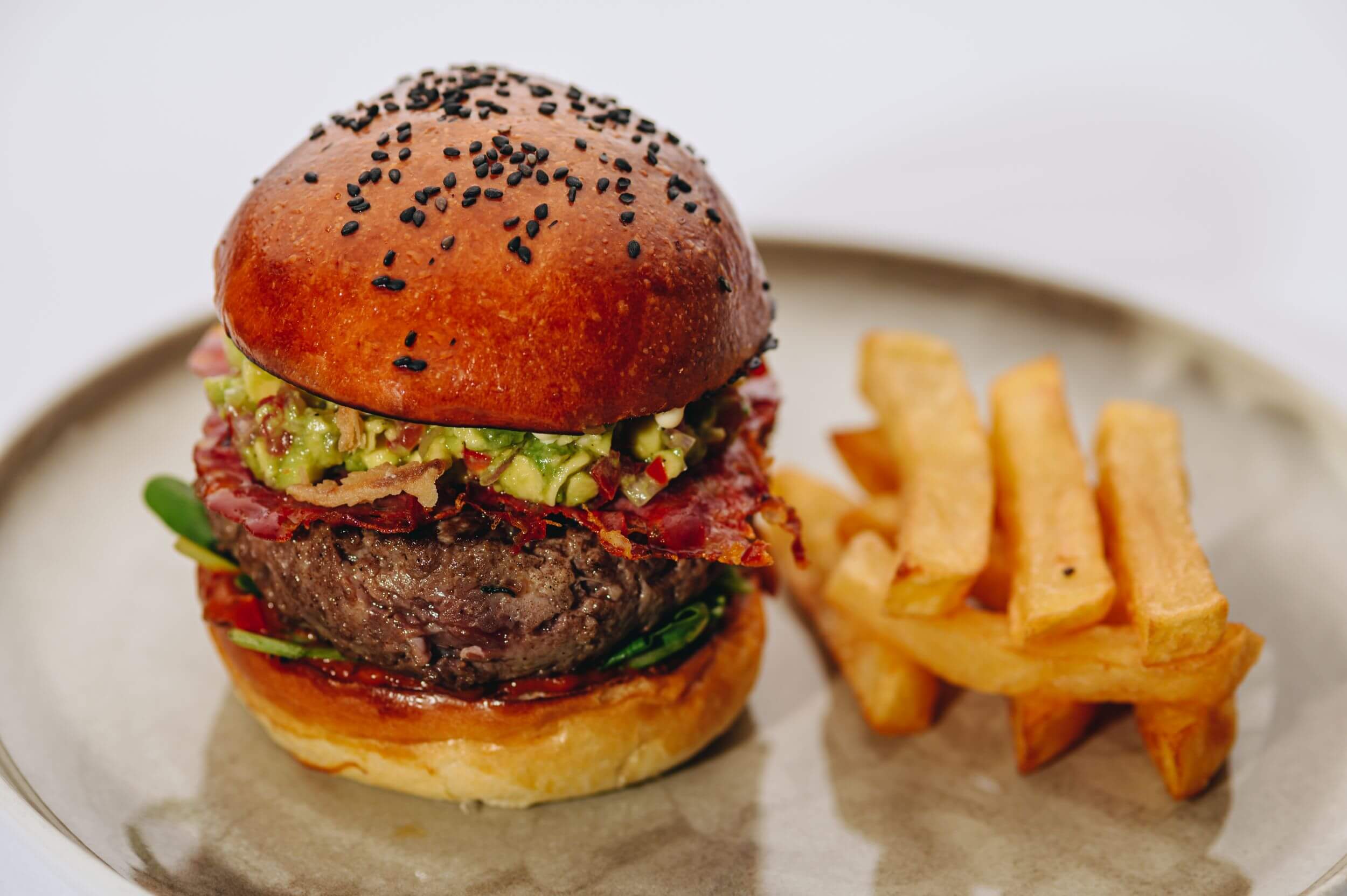 Bacon & whiskey
180 g
315 CZK
300 g
375 CZK
100% minced dry aged beef, buttery brioche, smoked whiskey mayonnaise, roasted bacon, cheddar, relish, salad, potato wedges
Ventricina & mole
180 g
325 CZK
300 g
385 CZK
100% minced dry aged beef, buttery brioche, ventricina, habanero salsa, guacamole, marinated shallot, rucola, potato wedges
Mole vegetarian
180 g
265 CZK
buttery brioche, beans, habanero salsa, guacamole, marinated shallot, rucola, potato wedges
Lobster (whole)
100g 230 CZK
The lobster of your choice with tarragon butter
Side options: bisque linguine, bisque potatoes or mixed green salad
Brioche
150g 490 CZK
lobster deep fried in tempura batter, marinated cucumber, mango mayonnaise, wakame
Surf & Turf
1190 CZK
Tenderloin, ½ lobster, clarified butter
Fresh Fish
according to daily offer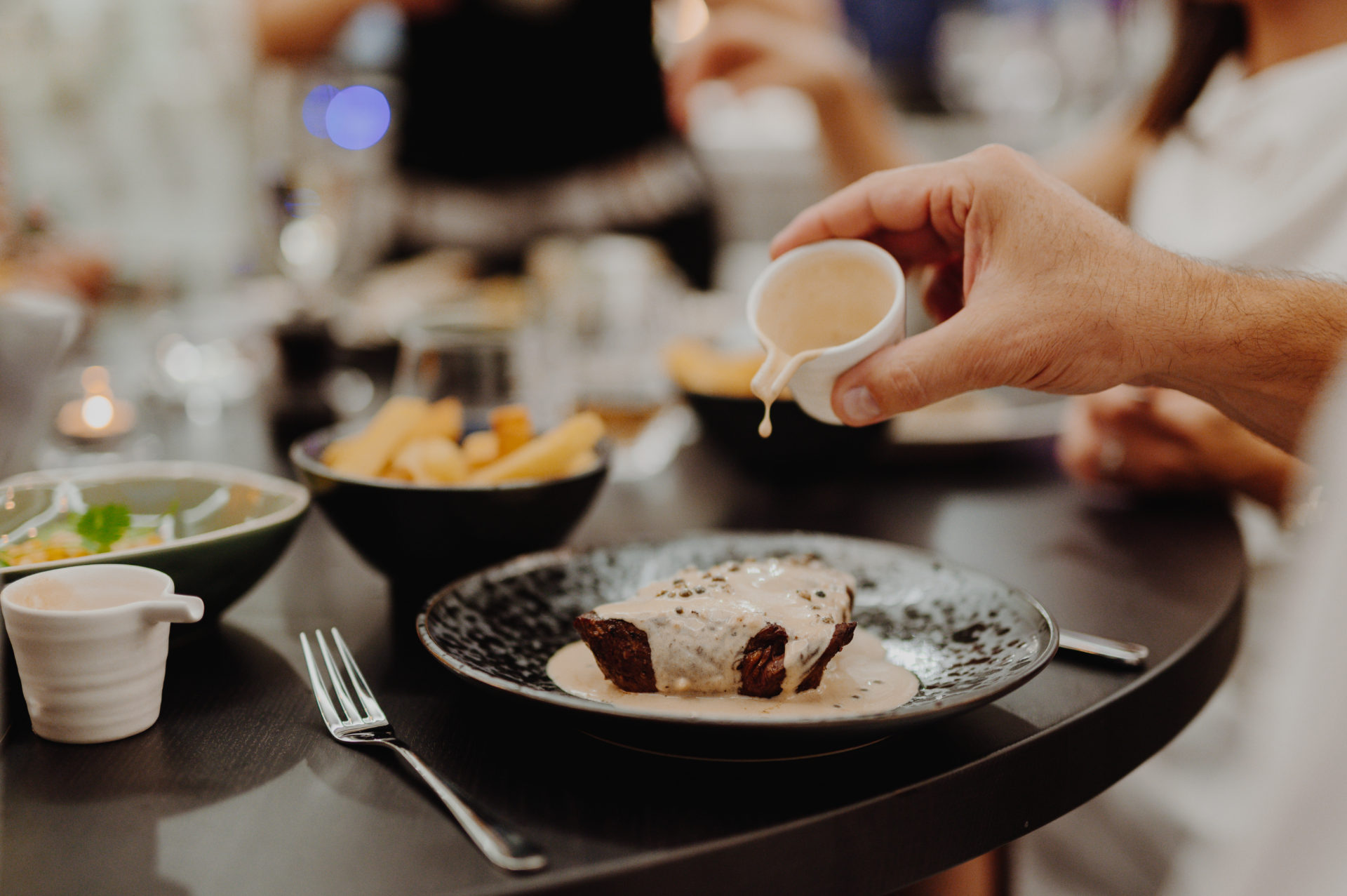 From baked Hanabero peppers
75 CZK
Smoked whiskey mayonnaise
65 CZK
Grenaille
75 CZK
baked with garlic confit and thyme
Potato wedges
75 CZK
with rosmarin-garlic salt
Avocado
115 CZK
deep fried in tempura batter, roasted pepper salsa, cilantro, pickled tomato, aioli
Chickpeas
95 CZK
miso, fennel salad, ventricina, orange
Spinach
95 CZK
buttered, broccoli, sauce Hollandaise, almonds
Corn
95 CZK
grilled, parmesan, basil mayonnaise, chilli
Tomatoes
85 CZK
salad, garlic focaccia, capers, anchovies
Mixed green salad
105 CZK
goat cheese, pine nuts, blackberries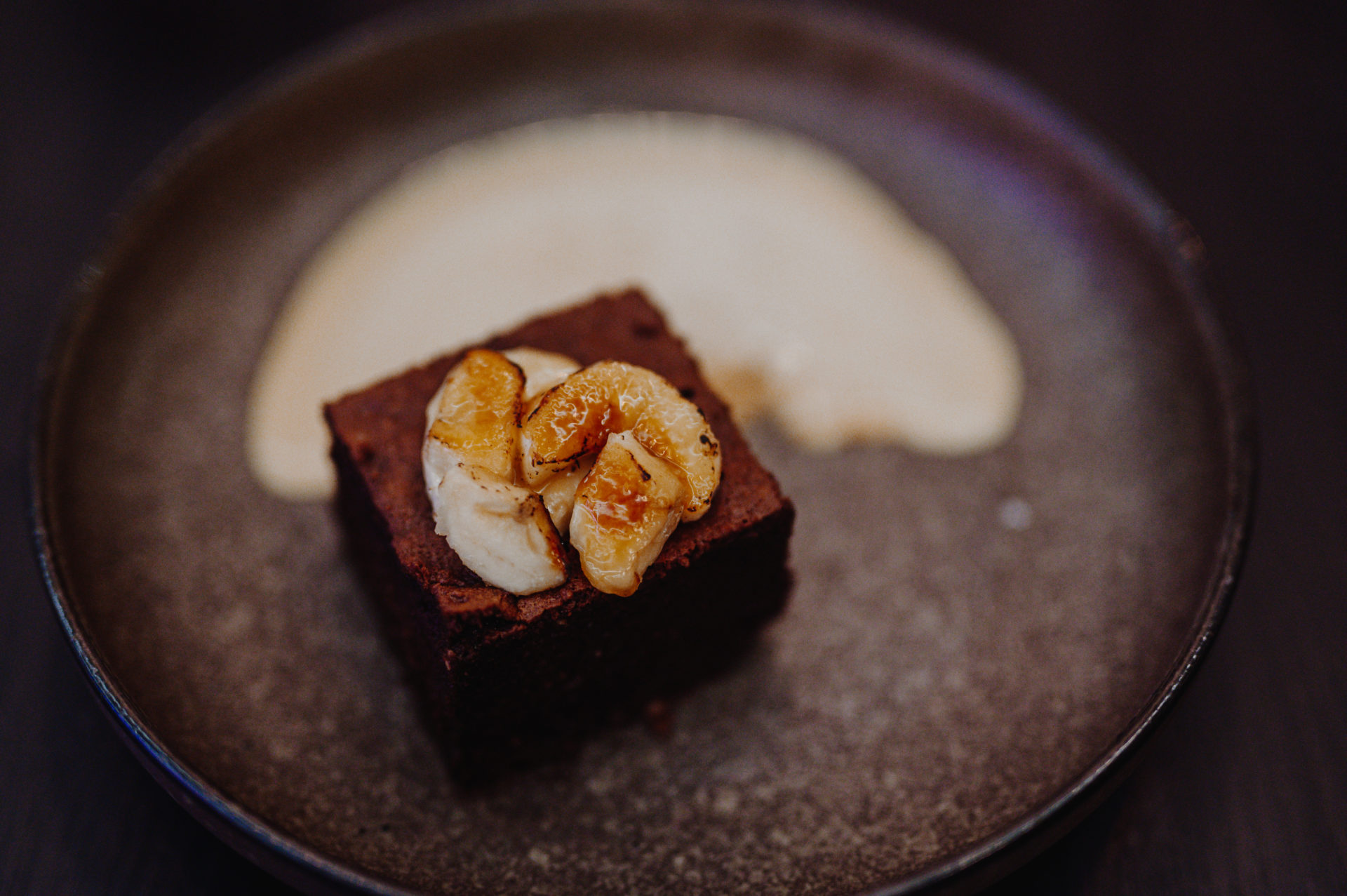 Beignets
125 CZK
strawberry tartar with mint, vanilla ice cream
Cheesecake
125 CZK
passion fruit, ricotta, pecan nut crumble, mango sorbet
Brownies
135 CZK
dark chocolate, banana, salted caramel ice cream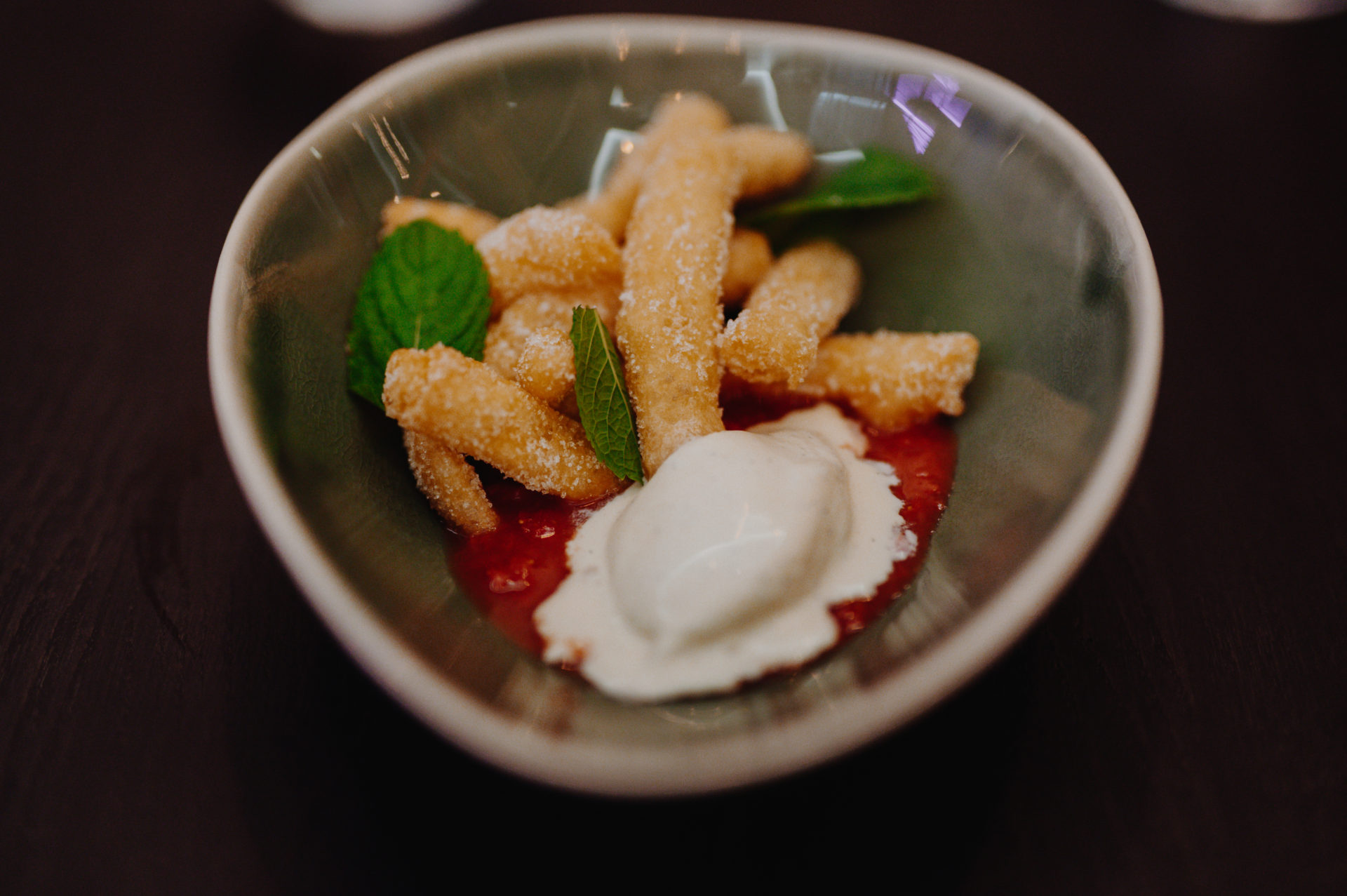 Seafood platter
for 2 - 500 g
1200 CZK
for 4 - 1000 g
2300 CZK
shrimps, mussels, calamaries with sides: spaghetti, butter potatoes, mixed green salad and bisque
Grilled steak platter
for 2 - 600 g
1100 CZK
for 4 - 1200 g
2100 CZK
rib-eye, skirt, rump steak with sides, baked grenaille potatoes, corn, tomato salad, demi-glace sauce, aioli sauce
Chicken nuggets
110 CZK
with mashed potatoes or butter potatoes
Fresh fish fillet
180 CZK
with mashed potatoes or butter potatoes
Spaghetti
110 CZK
with tomato or cheese sauce
Strawberry cream of wheat
79 CZK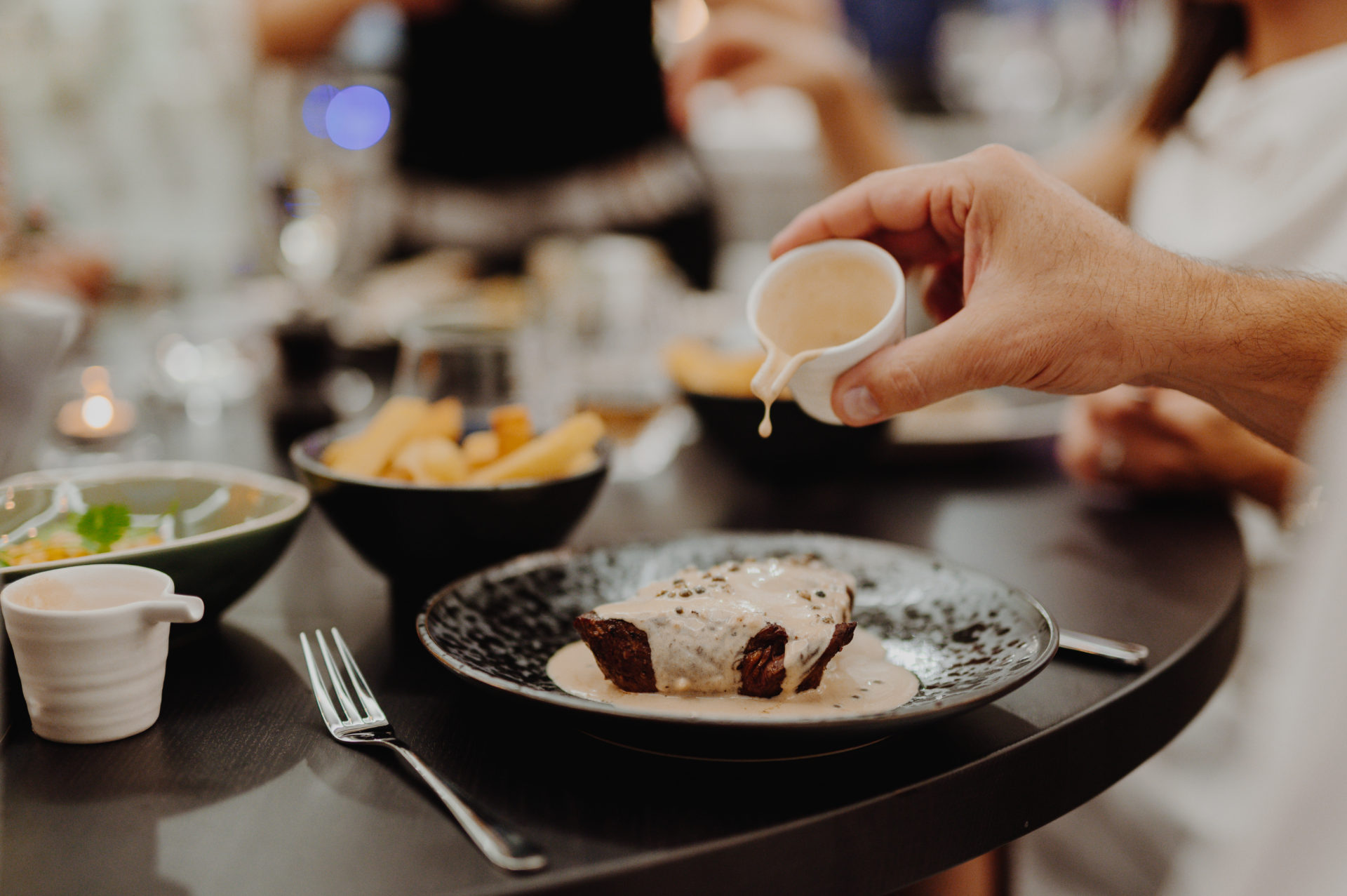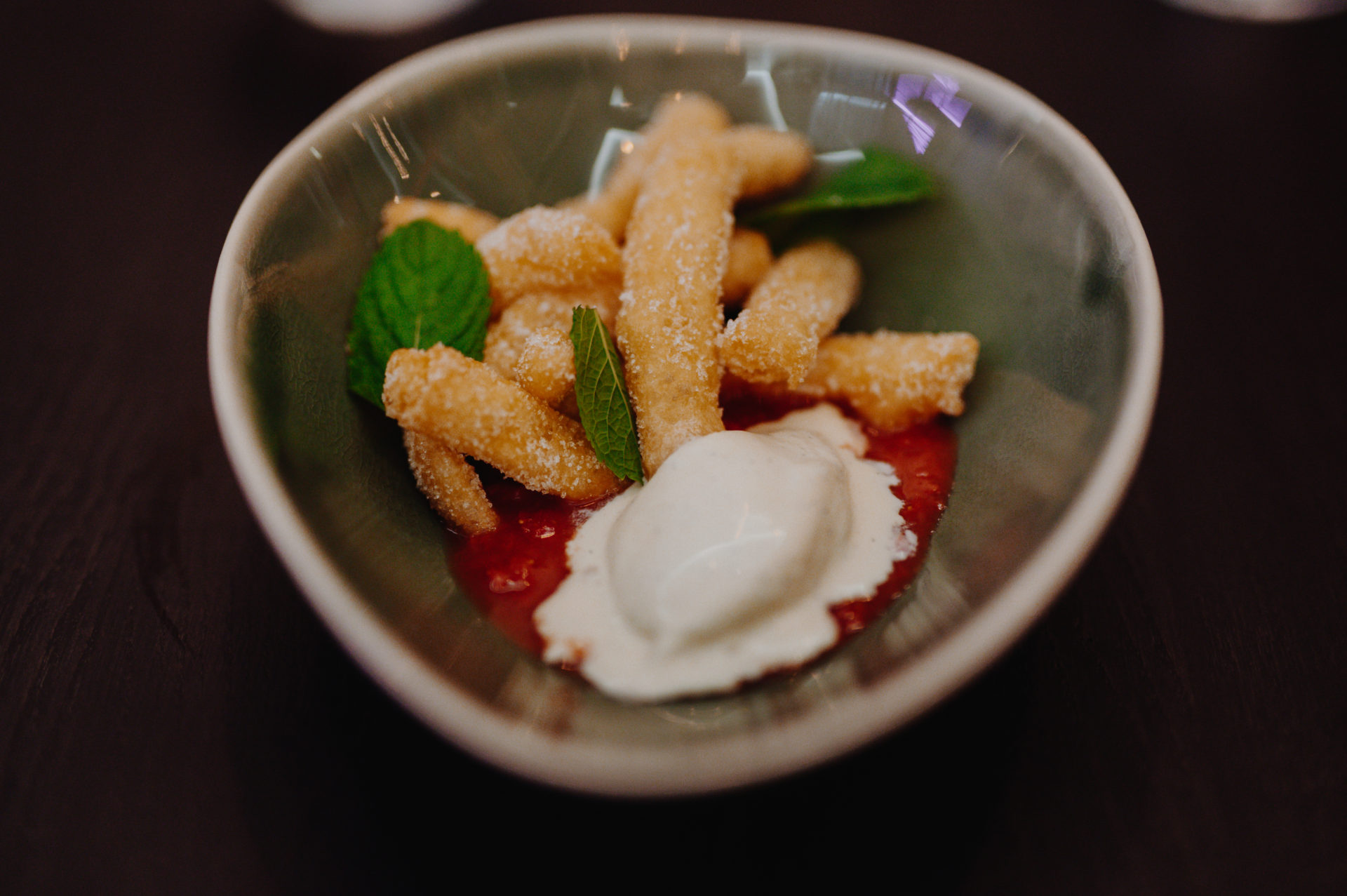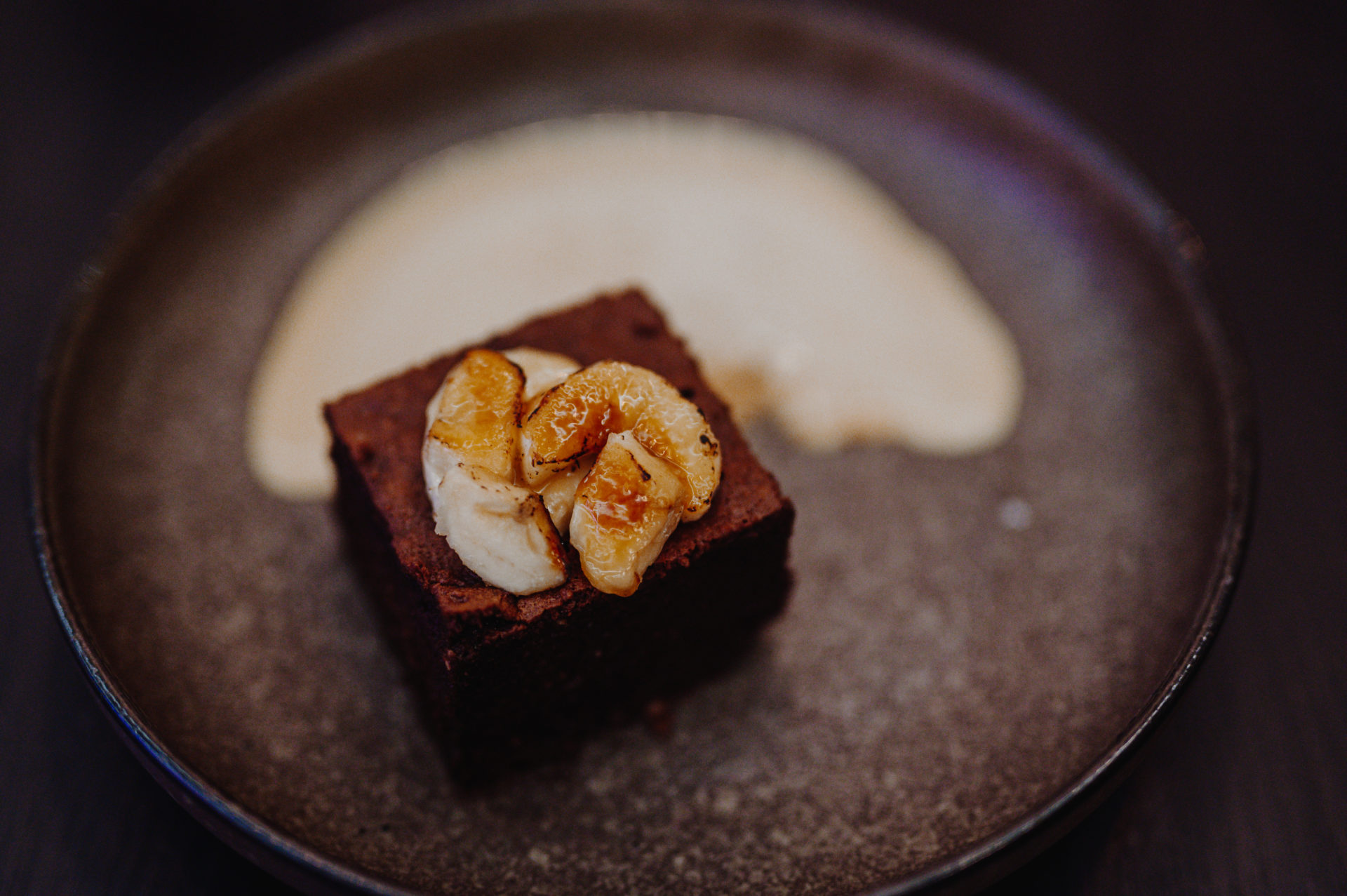 Jezuitská 687/6
602 00 Brno
Czech Republic
Monday – Thursday
11:00 a.m. – 11:00 p.m.
Friday
11:00 a.m. – 12:00 p.m.


Saturday
12:00 a.m. – 12:00 p.m.
Sunday
12:00 a.m. – 09:00 p.m.

Restaurant is run by Winning Gastro s.r.o.
CRN (IČO): 08005427
Person in charge: Jerzy Packowski